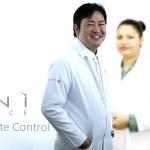 We view pest control in the same way as going to a medical doctor specializing in your type of infection. The specialists can dispense the precise medication if the cause of the complaint is found. This is precisely why we created the concept of Pest Control Doctors who are highly qualified specialists in their fields. At SaniEx, our "doctors" treat your home the same way, they are proficient in identifying different species of household pests and where they breed. Specific dosage is administered according to the type and severity of infestation. Our doctors endeavor to avoid the excessive use of pesticides in order to protect you and your home from over exposure. Our pest control technicians have completed extensive training and earned the Dubai Municipality licenses. Before they are dispatched to answer your call, we make sure that they are prepared and briefed about the services you require, and they will arrive at your home with a single objective – to do the job right the first time.
the 'Rolls-Royce of Disinfection'
Our Corporate mantra is "in pursuit of service quality and perfection". Our 'Swiss Concept' helps us define this by implementing strict standard and guidelines that cannot be compromised under any circumstances. This is what separates us from other companies.