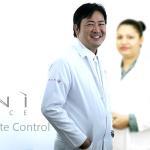 Our Unique Service Process​
Our Unique Service Process
See any pest in your home? Give us a call! Our excellent customer service associate will help you through any questions and booking an inspection.
Our 'Pest Doctors will arrive at your place to make an initial prognosis of the extent and magnitude of the infestation
The 'Pest Control Doctors' shall make a thorough investigation of your problem in order to identify the actual source of the infestation.
Our Pest Control Doctors shall then write out his prescription to our technicians based on his thorough investigation of your premises.  The prescription will be specifically designed to address your problem and will have a detailed course of action for the full duration of the treatment.
Our team of 'Specialist' Pest Control technicians shall then arrive at the exact booked time to execute the prescription that was designed for you by our Pest Control Doctors.
We shall make the recommended number of visits as per the 'Doctor's' prescription which shall include at minimum of 3 quality checks and 2 treatment services per year.  This vital step also includes a commitment on the client's part to follow our 'Doctors' prescribed practices to avoid re-infestation.
Yearly Full Pest Coverage
Free pest prognosis report and will be given within 48 hours.
Complete care from pest diagnosis to pest prophylaxis.
A yearly contract that protects all types of pests.
Tailor Made Treatments plans and inspections.
Emergency Calls for sudden reinfestation.
Highly Equipped Emergency Call Response Team.
The Emergency Response team will be dispatched within 24 hours
Immediate follow-ups in 3 days after the initial treatment
Indoor and immediate vicinity protection.
Client Experience
Guarantee
We treat your home like our home.
24-hour customer support.
Emergency Response Team available within 24-hours
Dubai municipality certified engineers and technicians.
Guaranteed Using High Quality brands like Bayer™.
10 years of First class, high-end, and privileged sanitation service
Clear and transparent reports from diagnosis to prophylaxis.
Each home is different from the other. We take into consideration your location, the type of pest and the surrounding environment. This is the reason why prices may vary. We will provide a quote after the inspection for a minimum of one-year full-service coverage. We provide a full pest profile analysis and home recommendations in accordance with the Integrated Pest Management Standards (IPM). 
***Special One Time Pricing for Existing SaniService Clients Only. Click Here…