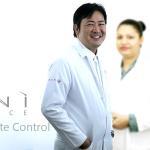 Any property can get affected by pests at any point of time. You can never be too sure that you will not be affected by pests in your house but there are certain things that you might do to prevent pests from entering/reentering your home or office. We call it the Pest Prevention Checklist –
Store your boxes & bags in dry area at least 6 inches off the floor level and wall.
Always keep the trash and bin areas clean and dry.
Make sure to clean your bins once a week and remove trash and recycling items too.
Store your food items in a sealed & air-tight environment.
Safely secure trashed food inside plastic bags while throwing them out.
Repair dripping taps, clogged drains and leaks as soon as possible.
Keep the sink area clean and dry after use.
Keep a check for any gaps on your doors and windows after they close as these might be entry points for various pests.
Seal all cracks and crevices that you find in your walls, pipes or wiring.
Do not place your carry luggage and purse on your beds as they might be acting as carriers of bedbugs. Keep them away from your bed possibly in a closet.
Keep a close watch on the items that you are bringing from outside like used furniture, plants, firewood and other similar items as they might be carrying pests.
Pests grow in damp and cold environment. Do not let your towels, bedsheets, mattresses, pillow cases etc. to be wet for a long period of time.
Properly wash and dry clean your clothes, linens. Also get your carpet, curtains and sofa sets clean and dry.
Certain aromas like eucalyptus may repel certain types of pests. You can use these aromas around your homes.
Get regular inspections done by experts like Saniex to make sure that you do not have any pest infestation.
If you find a slightest hint of pests like bedbugs, rats/rodents, ants, termites etc in your homes, simply contact Saniex, which is a Swiss Concept of pest control service introduced in Dubai by Saniservice.